Uniform
The correct uniform is as follows:
---
Boys

and

Girls:
School jumper/cardigan, white polo shirt or white shirt.
Black school shoes or plain black trainers.
Boots are ONLY allowed in the winter and these must be black leather- not suede.
(Ugg boots, heels, suede, canvas and open toed shoes are not allowed)
---
Girls:
Grey or black knee length skirt/pinafore dress/trousers or tailored school shorts
Summer dresses - blue and white checked gingham.
Plain black or grey tights. Plain black, grey or white socks.
No hair accessories apart from a simple plain Alice band
---
Boys:
Grey or black trousers or tailored school shorts
Black or grey socks.
Long hair should be tied up and off the shoulders with a simple band (including boys)..
Children may wear a plain 'quiet' watch and small stud earrings.
(No other jewellery, make-up or nail varnish may be worn)
Jumpers, cardigans and book bags can only be ordered through Marks and Spencer's on line, but the remaining uniform can be purchased from a supplier of your choice. Please ensure that all articles of clothing are clearly named; this makes returning property to the correct owner much easier!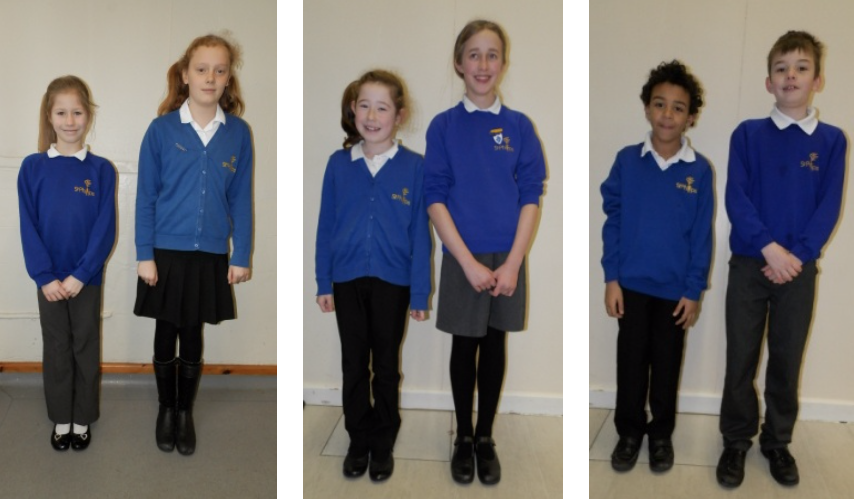 PE

and

Games

Kit
All children are expected to take part in P.E. and Games lessons. Please will you send a note if you consider your child is unfit to do so.
---
Indoor

Kit:
Plain white t-shirt, navy or black shorts. (Please note that arm and leg length should be above the elbow or knee.) Children do indoor PE in bare feet.
---
Outdoor

Kit:
As above plus dark sweatshirt and dark jogging bottoms for cold weather, training shoes or daps.
---
All PE Kit should be kept in a named PE bag. Swimming costumes and towels are required for junior children - teachers will inform parents of the term in which children will swim. Children must change into suitable clothing for all physical activities. All children are expected to take part in P.E. and Games lessons.
Many thanks for your support in this.