Governance
As an academy, we sit within a governance structure as can be seen from the following diagram.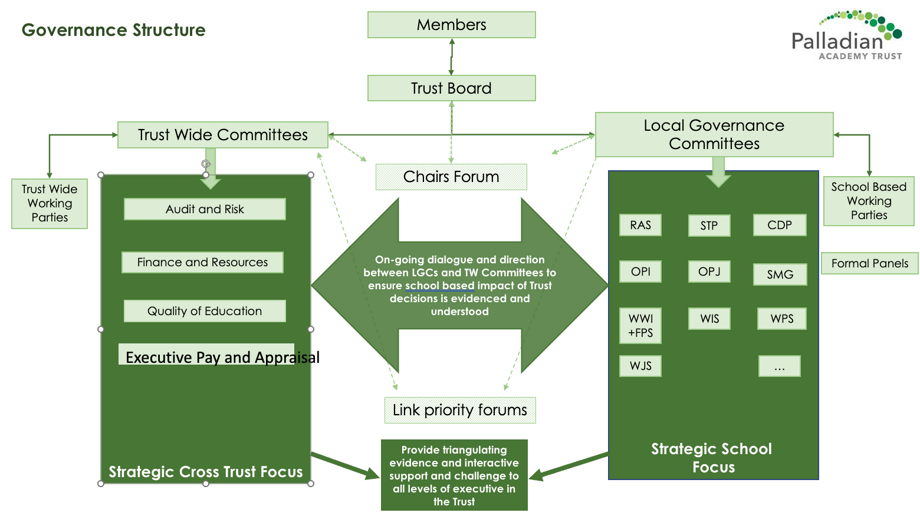 Board Of Trustees
The board of trustees manages the business of the academy trust. They act as Directors in terms of Company Law, Trustees in terms of Charity Law and Governors in terms of Education Legislation. As a mixed MAT, the Trust Board lead on the responsibilities to maintain the Christian Distinctiveness of our church schools in line with the SIAMs framework and to preserve the non-religious nature of our community schools.
The work of the Board is focused is on the three core functions of governance:
ensuring clarity of vision, ethos and strategic direction;
holding executive leaders to account for the educational performance of the organisation and its pupils, and the performance management of staff;
overseeing the financial performance of the organisation and making sure its money is well spent.
For further details of the Trust's governing structure click here.
St Philip's Local Governing Committee
Local Governance Committees (LGCs) are in effect sub-committees of the Trust Board and have delegated responsibilities to ensure and assure that actions taken by the school means that safeguarding is effective, a well-delivered, inclusive, broad and balanced curriculum is leading to the best possible outcomes for all children and that the school is engaged with its wider community and the views of stakeholders are taken into account.
Minutes from the meetings are available on request from the clerk.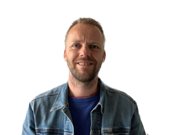 Mr Adrian Taylor-Weekes is Chair of our LGC and can be contacted at at: stpchair@palladianacademytrust.com
Mrs Deborah Clayton is the clerk to the governors and can be contacted at: d.clayton@palladianacademytrust.com
Headteacher

Mr Andy Joy (Ex Officio)

Staff governor

Mrs Jo Coppens

Foundation governors

Mrs Kirsty Mokebo

Mr Jack Wiggins

Vacancy

Co-Opted Governors

Mr Tom Underhill (Vice Chair)

Mr Ian McLaughlin

Parent Governors

Mr Adrian Taylor-Weekes (Chair)

Mrs Alice Solari

Mrs Serena Bentley-Taylor

Clerk

Mrs Deb Clayton
Governors ensure the success & wellbeing of St Philip's and regularly give up of their time to meet and discuss the best way forward for the school.
Mr Andy Joy
I've been a governor since 1/9/06 by virtue of being the Headteacher.
After graduating from teacher training in 1991, I taught in a junior school in South Wales for 10 years. I then moved to Bristol to become deputy headteacher in a primary school in Keynsham where I worked for 4 years before taking up the headship at St Philip's in 2006. I love this school and our community - it's a pleasure to work with such a dedicated team of staff and volunteers who serve in such a variety of ways to ensure the best provision for the children in our care, enabling them to flourish and enjoy life to the full.
Mrs Jo Coppens
Staff governor since September 2018
I have worked at St Philip's since 2002; I started as a class teacher; mainly in Key Stage Two. I am now the deputy head teacher and non-class based. I have a variety of roles in school which include the oversight of children in receipt of Pupil Premium Funding and whole school assessment. As a result of having a wide range of roles in school and being part of the schools journey for a number of years I feel that I have a lot to contribute to the governing board as we continue on our journey of self-improvement.
Mr Adrian Taylor-Weekes (Chair)
Parent Governor since November 2017
St Philip's School is great! My family has benefited greatly from the work of the staff here. I currently have two children at St Philips with two having already passed through. It's been a privilege to serve as Governor since 2017. I am keen to see the good standards sustained, the Christian ethos maintained and the school continue to bless the pupils, families, staff and wider community. As a local church pastor I am deeply appreciative and supportive of the schools Christian ethos and am privileged to help out regularly with Collective Worship.
Mrs Kirsty Mokebo
Foundation Governor since December 2021
I am a parent to children at St Philips, live locally and also attend St Philip's Church. It has been so encouraging to see the strong, positive Christian values at St Philip's and how this affects the feel of the school. It has been good to see the school and church work together. I hope to work alongside the other governors to ensure the school provides for pupils and staff, and provides a safe, supportive environment for all.
Mr Tom Underhill
Our family have been involved with St Philips since 2017, and we now have three children in the school. We are immensely thankful to have such a happy and caring school for them to be at, with a vibrant Christian ethos. It is a privilege to contribute to the school community as a governor, to try to support the teachers and staff and maintain St Philips as the special place that it is.
Mrs Alice Solari
I am a parent governor with two children at St Philip's School, one in juniors and one in infants. Since my eldest child started at St Philip's I have been repeatedly impressed by the school staff, who work incredibly hard with a dedication and care for the pupils. The school has a family-feel where children are appreciated and encouraged to be the best they can be. I think it's crucial for every child to have the opportunity of a positive experience of school, both academically and socially, and the staff at St Philips all seem to embody this idea. I hope to bring the life skills I've learnt through various avenues, to support the staff and parents in keeping the school the best it can be, for all pupils no matter what their circumstances.
Mrs Serena Bentley-Taylor
Parent Governor since December 2021
Our family have been a part of St Philip's Primary school since 2015 and we now have 4 children at the school! It is a privilege to support the school as a parent governor and play a small part in the wonderful work of the care of the children and those who look after them at St Philip's. We love the school and its clear values connected to having life in all its fullness.
Mr Ian McLaughlin
As a Co-Opted Governor I am extremely privileged to be able to support St Philip's Governing Board through the skills and experience I have gained from over 20 years within leadership, project management, and safety roles within the public and private sector.
As a parent to a child at St Philip's, I also know first-hand how incredibly hard the school leadership and staff work to support all pupils and create a positive and safe learning environment. I will work jointly with the Governing Board and school leadership to support the school maintain these excellent standards through professional and effective governance.